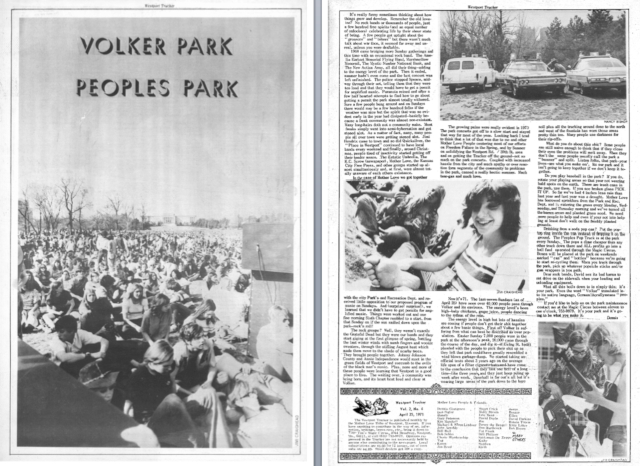 By Tommy Greene —
I can't recall anyone, even within the Kansas City Parks and Recreation Department, ever calling Volker Park by its formal name, the Frank A. Theis Memorial Mall. Oh, the name certainly would have been in city documents and perhaps even appeared in The Kansas City Star when it was dedicated. But the area and its immediate environs were simply referred to by all as the name of its delightfully whimsical Volker Fountain situated on the site's lowest ground.
Perhaps with Berkeley's "People's Park" in mind, a fellow with the Mother Love Tribe, which put out the Westport Trucker and scheduled the summer park concerts, regularly called it "Volker Park" — a sort-of fractured German for the same thing. His name was David Doyle and it wasn't long before concert announcements, starting with the May, 24, 1970, edition of the Trucker began to use the moniker. It caught on very quickly.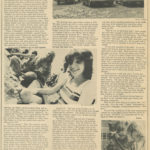 There were many articles relating to the Sunday concerts that appeared in the Trucker's various incarnations over the years. The following from the April 24, 1971, edition (click thumbnail to enlarge and read) discussed Volker Park's earliest shows from 1968 through Easter Sunday of 1971 and what its author thought needed to be done to keep the rock rolling.
————————–
A note on the pictured pages 2 and 3 of the April 24, 1971 Westport Trucker: Many of the people listed as staff and contributors, including the author of the article, formerly produced the Kansas City Screw or were currently with Good Karma Productions which operated the Vanguard Coffeehouse and managed several high-end acts. For example, Good Karma's Gary Peterson earlier that year had designed a Westport Trucker cover that featured the "toking cow" image that would later be used as Cowtown Ballroom's logo and Bonnie Harney, along with impresario Michael Waggoner, would take over the ballroom's day-to-day operations from Frank Polte in June 1973. At lower right are Paul Hartfield and Neil Haverstick of KC Grits at Volker Park. At top is "Trucker Dennis" chatting with Sgt. Pauls west of the fountains.