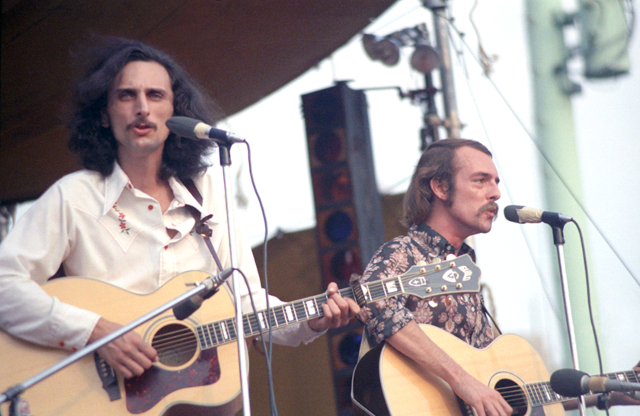 Mike Brewer and Tom Shipley arguably represent the high point of Kansas City rock 'n' roll. True, they were and are folkies at heart. But Brewer & Shipley made major-label records with backing from the top rock musicians of the era. They played every venue in town, from the Vanguard coffee house to Cowtown Ballroom to Arrowhead Stadium (opening for Elton John). They helped foster the scene in other ways. Above all, their Top 10 hit from 1971, "One Toke Over the Line," puts them at the top of the heap.
The only question is, are they from Kansas City? Well, they were at the height of their fame. Brewer was originally from Oklahoma City and Shipley from Cleveland. They met on the folk circuit and went out to Los Angeles to hang with the stars of the burgeoning country-rock movement and recorded "Down in L.A." for A&M Records in 1968.
In a recent interview, Brewer noted that Leon Russell and other members of the so-called Wrecking Crew studio mafia played on the LP, "only we were so naive we didn't realize who the Wrecking Crew was."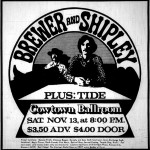 Brewer said they were on the road when they got a call from Stan Plesser, Dan Moriarty and Gary Peterson, who'd been running the Vanguard and wanted to expand beyond it with a band who had a record out. So B&S relocated to KC and formed Good Karma Productions with the aforementioned, plus fellow folkie Danny Cox in a house catty-corner from the Vanguard. As Brewer explains it, it was a loose aggregation, and he, Shipley (incl. wife and child) and Cox lived there at first.
"We didn't have contracts," Brewer said. "That's what we were trying to get away from."
B&S managed to get away from A&M and sign with Neil Bogart's Kama Sutra record label. Brewer said Bogart wanted to get away from the bubblegum music with which he made his bones, and B&S were the sort of album artist he was looking for. They recorded their classic LPs "Weeds" (1969) and "Tarkio" (1970) while living in Kansas City (five secluded acres in Raytown, actually) and traveling to San Francisco to record at the fabled Wally Heider Studios.
Nick Gravenites, who had played the Vanguard as a folk-blues act, served as producer and enlisted the town's top talent to play. Brewer notes it was unique combination of Chicago blues cats (Mike Bloomfield, Mark Naftalin, Gravenites), folkies (them) and rockers (Garcia and his solo bandmates John Kahn and Bill Vitt, Nicky Hopkins, et al).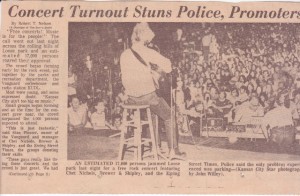 Brewer said "Rise Up, Easy Rider" from "Weeds" was inspired by the movie that came out the same year. "Tarkio Road" was inspired by their travels throughout the region, including Tarkio, Mo., where there was a small college.
"We were living the 'Easy Rider' thing," he said. "It was dangerous in the South. We glowed in the dark with our long hair and Nehru shirts and bell bottoms. We were harassed; turned away from hotels because of the way we looked. Trying to find a place to eat without people wanting to beat us up."
By the time the Vanguard closed and Cowtown Ballroom opened, B&S were a big local deal. Artists like Chet Nichols and Ted ("Seems Like a Long Time") Anderson and the bands Ozark Mountain Daredevils and Ewing Street Times were attracted to the scene.
A free concert they threw at Loose Park in July 1970 with Brewer and Shipley headlining drew an estimated 17,000 and became a sort of mini-Woodstock, completely shutting down the surrounding neighborhood.
B&S made two more records for Kama Sutra ("Shake Off the Demon" in 1971 and "Rural Space" in 1972) and two for Capitol ("ST11261" in 1974 and "Welcome to Riddle Bridge" in 1975) before breaking up for roughly 20 years. Both moved to separate spots in southern Missouri.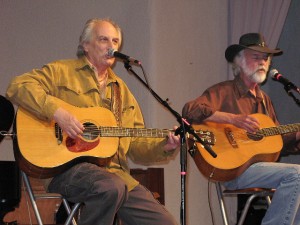 Since then, they've reunited for numerous performances and self-released two LPs ("Shanghai," 1993, and "Heartland," 1997).
A St. Louis documentarian is working on a film about B&S, and they have a 50th anniversary concert coming up March 9 at the Uptown Theatre. The Nace Brothers and Bob Walkenhorst and Jeff Porter from the Rainmakers open.