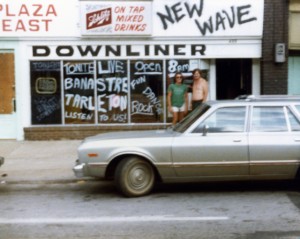 It is 1979
Troost Street, downtown KC,
Upstairs is the Tavern….
A down on the luck dive.
Lynyrd Skynyrd's blaring from the jukebox,
accompanied by the crunch of peanut shells
cracking under the pointy, scuffed boots
of Coors Light-drinking, red-necked cowboys in plaid collared shirts
alongside disheveled, skid-row drunks, their shoulders hanging over their cocktails,
all lining the bar like hopeless vultures,
Pool balls clacking under a blinking and buzzing fluorescent light and
an occasional drunken fist fight breaks out.
Just below in the basement is The Downliner, a bunker-like, concrete-walled punk club
stuffed and bursting with charged up, spiky, shaved, and Mohawk-headed boys, wearing band buttons on their leather jackets, or starched shirts and skinny ties, with safety pins through their ears, lips, and noses, posturing alongside bleachy blonde or jet black haired, tough girls, in torn tights, ripped tee shirts, tight jeans and stiletto heels. Off of someone's mix cassette, Poly Styrene is screaming Oh Bondage Up Yours through the PA speakers.
And between these two worlds, just off the landing, is the green room.
Well, more like a closet jammed with a collection broken, old bar stools and peeling paint revealing a flowery wallpaper that fits neither the upstairs or downstairs universes…
Between shots of Wild Turkey and cans of Budweiser,
We are busily crossing and uncrossing songs off our set lists which are scribbled onto crisp white sheets of blue-lined composition paper.
A sharp, striking knock rattles the worn wooden door. Someone pops his badly, shaven head
and bike-chained neck through the space between the door and frame and shouts
"Five minutes" and slams it back shut
We can hear chants, shouts, and stomps commanding us to play, an intoxicating, plodding, New York Dolls bass line, and crashing guitars, is exploding distortedly out of the speakers charging up from the basement, intertwining with something Johnny Cash drifting down, down, down, from the Tavern above …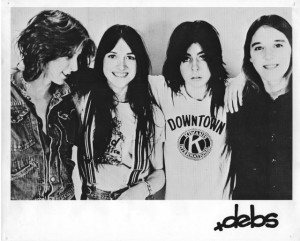 In her teens, Kris Garnier was a singer and guitarist of The Debs, a maverick all-girl band that toured the mid-west in the late 1970s. Over the years, she has morphed into a storytelling, songwriting, create-or-wilt, botanizing, photoholic. She studies Botany at the New York Botanical Gardens in the Bronx and co-produces StorySlams, a new-fangled variety show, out of her now hometown of Woodstock, NY. Check out her work soon at her currently under-construction www.krisgarnier.com