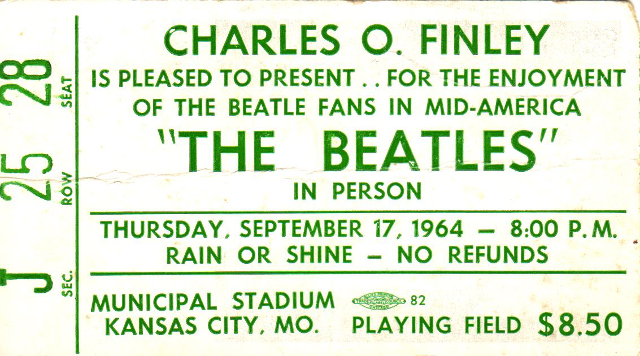 Sir Paul McCartney returns to Kansas City for a concert this Wednesday, July 16, at the Sprint Center as part of his "Out There" tour. It will be the first time I have seen him perform, but it's the rock icon's fifth visit to our town.
The first, of course, was when the Beatles played a concert on Sept. 17, 1964, at old Municipal Stadium as part of their first American tour.
Paul's next KC appearance came on May 29, 1976, at Kemper Arena on the "Wings Over America" tour. Four tracks – "Maybe I'm Amazed," "Listen to What the Man Said," "The Long and Winding Road" and "Letting Go" – recorded at Kemper appear on the triple live album bearing the title of the tour.
McCartney performed at Arrowhead Stadium on May 31, 1993, on his "New World" tour, followed by a July 24, 2010, show at Sprint Center on his "Up and Coming" Tour.
We're blessed to have both surviving Beatles visit KC this year. Ringo Starr brings his All-Starr Band to Starlight Theater Oct. 4. He was last here June 28, 1992, playing at Sandstone.
John and George never returned after 1964.
I have been gathering information about the Beatles' 1964 KC concert in preparation for a presentation on the 50th anniversary of the event. It's set for 2 p.m. Sunday, Sept. 14 at the Central Library, 14 W. 10th St., as part of the KCMO Public Library's free Missouri Valley Speaker Series.
I'm honored to have been asked to give this talk. And while I have some materials, I am desperately seeking more, both for the talk and for the book I hope to publish on KC Rock History. So if anyone out there has photos taken at the show, no matter how grainy, or other memorabilia, please write me at rick [at] kcrockhistory [dot] com. You can scan and send it to me (high-res, please!) or loan it to me for scanning and be assured I will take good care of it. And please post your memories of the show below.