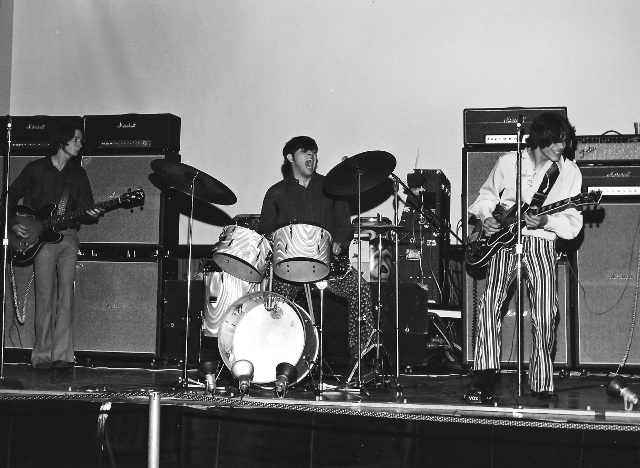 If the Classmen (clean-cut brothers, managed by their father) were Kansas City's equivalent to the Beach Boys and the Chesmann its Beatles, Stone Wall could be likened to Kansas City's Cream or Led Zeppelin.
A power trio with roots in the blues, Stone Wall was led by singer-guitarist Allen Blasco in combination with three different rhythm sections (1968-76).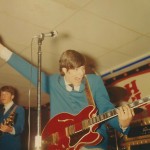 As a young teen (1965-68), Blasco led The Clergymen, whose ever-changing array of musicians included Ray Goldsich, later to become known as radio personality Ray Dunaway. They were good enough to headline the Hullaballoo Scene club, a spinoff from the 1965-66 NBC television show that opened in 1967 on 85th Street just east of Prospect Avenue.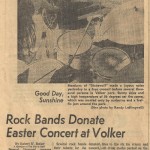 But with the coming of Hendrix, Cream and Blue Cheer, 17-year-old Blasco wanted to emulate that heavier sound, and he had the chops and the equipment to do it. He and his band mates (Ken Mairs, drums, Greg Whitfield, bass, v.1; Lee Cline, d, Rick Bacus, b, v. 2; Pete Jacobs, d, Alan Cohen, b, v.3) played venues ranging from Volker Park love-ins (there's a great YouTube video here) to Municipal Auditorium, as part of then-future Cowtown Ballroom impresario Stan Plesser's June 1969 Fun Fair.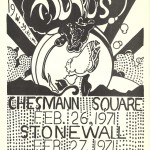 While Stone Wall gigged all around town and at such outlying venues as St. Joe's Frog Hop Ballroom and The Jolly Troll in Holton, Kan., they struggled to create original songs and thus interest from major record labels.
Blasco went on to form and/or play with such bands as Neon Blue and the reformed Riverrock.