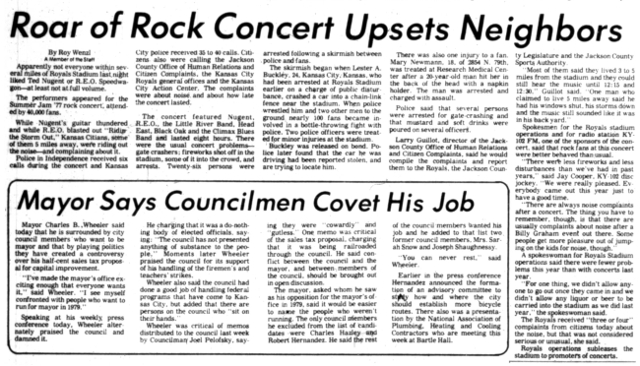 The nostalgic triple bill coming up at Starlight Theatre on Friday, May 10 — Styx, REO Speedwagon and Ted Nugent — made me wonder just how many times those three acts have collectively played Kansas City.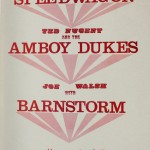 The poster at left shows that promoter Chris Fritz presented two of the three groups – along with Joe Walsh's Barnstorm – at Memorial Hall in the early '70s. Nugent was still billed as leader of the Amboy Dukes then, just a few years after their Top 40 hit from 1968, "Journey to the Center of the Mind." Barnstorm existed only from 1972 to 1974, so this would have to be from that period.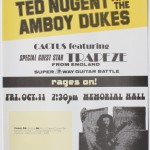 The Nuge had played KC before, and he came through many times thereafter, as did REO and Styx. Part of REO's 1977 double-live album was recorded at Memorial Hall.
When Nugent was at his commercial, multi-platinum-selling peak, he even headlined two stadium shows for Fritz. The first of those, on Sunday, June 26, 1977, became infamous for drawing noise complaints from miles around the Harry S Truman Sports Complex. (See story above) Second on the bill that night was REO Speedwagon.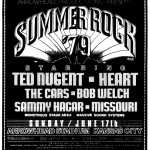 REO also headlined a memorable show at Royals Stadium on Sept. 1, 1979, literally "Ridin' the Storm Out" on a night so rainy they could barely finish their set. Someone is selling a vintage T-shirt from that show for $140 online here.
Next month's show is a production of Live Nation, Starlight's promotional partner for the current season. I was also trying to think, for the purposes of this post, about what were the first rock shows staged at Starlight. I remember seeing the Grateful Dead and Elvis Costello (in separate shows) there during the 1980s, but I'm almost certain rock shows were held there during the 1960s and '70s.
What are your Starlight rock memories? Please leave a comment below.