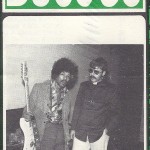 Among the holy grails of the Kansas City Rock History Project, in terms of photos, is the Jimi Hendrix Experience concert Nov. 1, 1968, at Municipal Auditorium.
If anyone out there has photos of Jimi, Noel Redding and Mitch Mitchell on stage in Kansas City, please be in touch with me. And anyone who attended, please feel free to share your memories by commenting below.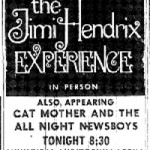 I have found some ads for the concert, whose opening act was Cat Mother and All-Night Newsboys, on the back of a KUDL Boss 30 survey and in the Kansas City Star.
My other top photo wants are, of course, the Beatles Sept. 17, 1964, at Municipal Stadium and the Who (with the Buckinghams) Nov. 17. 1967, at Shawnee Mission South High School Auditorium. I am looking for candid photos of the Who — something besides the 1968 yearbook spread.
I am also searching for snaps of such concerts as Led Zeppelin Nov. 5, 1969, at Memorial Hall, Elvis Costello and the Attractions, Feb. 1, 1978, at Pogo's, and any of Elvis Presley's five KC concerts: May 24, 1956, Nov. 15, 1971, and June 29, 1974, at Municipal Auditorium, and April 21, 1976, and June 18, 1977, at Kemper Arena.
If you have photos of these shows or any others you are willing to share with the Kansas City Rock History project, please write to rick [at] kcrockhistory [dot] com. History will thank you.